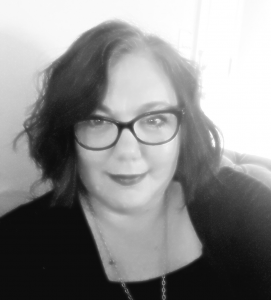 Hi,  I'm glad you're here.
I'm a gamer, a grandma, a wife, a business owner, a geek, a fan, a hero, a villain, a mom and a friend. I started learning to play violin in 2016, when I began my manuscript, so I could write about music. My lovely daughter, as it happens, is a talented sculptor. My husband and son play guitar and I hope one day to get them to play with me.
I've been writing for 19 years. My work has appeared on numerous websites and blogs, and one essay collection, all nonfiction boring techie stuff. I've also been a public speaker. Now, I'm trying my hand at fiction.  I have 7 books planned and 3 outlined. This is subject to change without notice, but right now? It's my plan. 
Favorite authors: Lewis, Jordan, Tolkien, Rothfuss, Sullivan, Lawrence, Modissett, Pratchett, Adams, Eddings, Butcher and Williams. Susan Cooper, Madeleine L'Engle, Anne McCaffrey, Ursula LeGuin, Patricia Wrede, Lloyd Alexander, Guy Gavriel Kay  I also quite enjoy the odd Dean R Koontz book. (Pun intended.) If you don't know these names get to reading. I'll wait.
I live within spitting distance of Louisville, Kentucky. I drive a Mini that is affectionally known as the CARDIS (it's bigger on the inside) and am an Anglican (ACNA), not an Episcopalian. Yes there is a difference. I'm a believer in the full Apostle's Creed and the plenary verbal inspiration of Scripture. I believe in Christus Victor. They let me teach the children every week and it is my honor to do so. I am plotting to introduce the kids to Aslan and Tumnus asap. You may follow me on Amazon at https://www.amazon.com/author/annecmiles 
You may email me at redtoadmedia at gmail dot com.
Around the Web
This is just a list of interviews and such I've done. A few reviews and mentions of Sorrowfish as well. Enjoy.
SPFBO 6 (Phase 1) Knocked out by the eventual winner of the whole thing, Justin Lee Anderson. Yes, I'm calling it. He hasn't actually won yet. His book, The Lost War, has a twist which I don't believe can be beaten. We shall see if I'm right. 🙂
Interview with the Fantasy Hive
Book Review by the Book Dragon
Interview with LightWordsToday
Writer of the Day/ Reddit Post
Sorrowfish Book Recommendation (Summon Fantasy)
Lorehaven (Review)
Review from Anna Tan
(The girl who thought the book took place in Illinois. lol )