I was doing my taxes when I got the email. Nothing in the world is better than going from the abyss of taxes to a notification your book won "Best Fantasy 2019" from Indies Today. I sat there in shock. I drive a Mini Cooper and had just left the tax lady's office. I sat there, unbelieving, then I hit their web site. Yep. There was MY BOOK with the badge.
I called my husband. Jane Friedman (yes THAT Jane Friedman) had read my blog earlier in the week and messaged me about linking to it, but this was bigger. WAY bigger.
I jumped up and down in the seat, which I'm certain looked suspect. And I raced home.
I posted the award to exactly one million Facebook groups. And Twitter. And Goodreads. And Reddit. And Wattpad. So excited.
Other people may not understand, but this was a Very Big Deal for me. I seriously considered a forehead tattoo but decided that was a little much. But still.
The next day was my Louisville Barnes & Noble book signing. I was already a bit anxious about it, but the award made it much easier. Now I had tangible proof I have written a Good Book.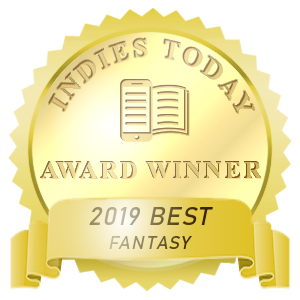 There was no time to get books with the badge on the cover, so my brilliant husband turned his laptop into a sign for me.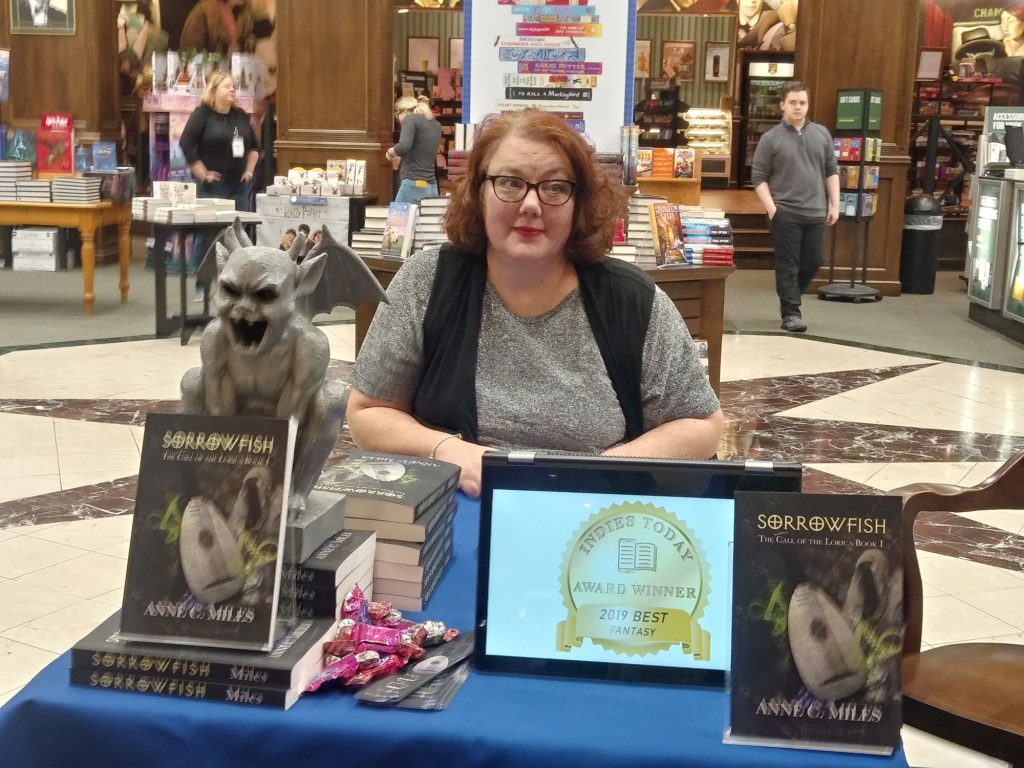 I took my gargoyle, Hodges. He is in the book. And I brought candy and my bookmarks to give away to anyone who got within earshot. My new hair color arrived that morning but I didn't have time to color. So I looked like a weird old lady. But that's ok. I'm an award-winning author!
The book signing went well. We sold almost half the stash the store had ordered and left several signed copies on the shelf for future browsers. I had people message me saying they were there after we left. I'm pretty sure we sold more. The manager seemed surprised and pleased by the turnout.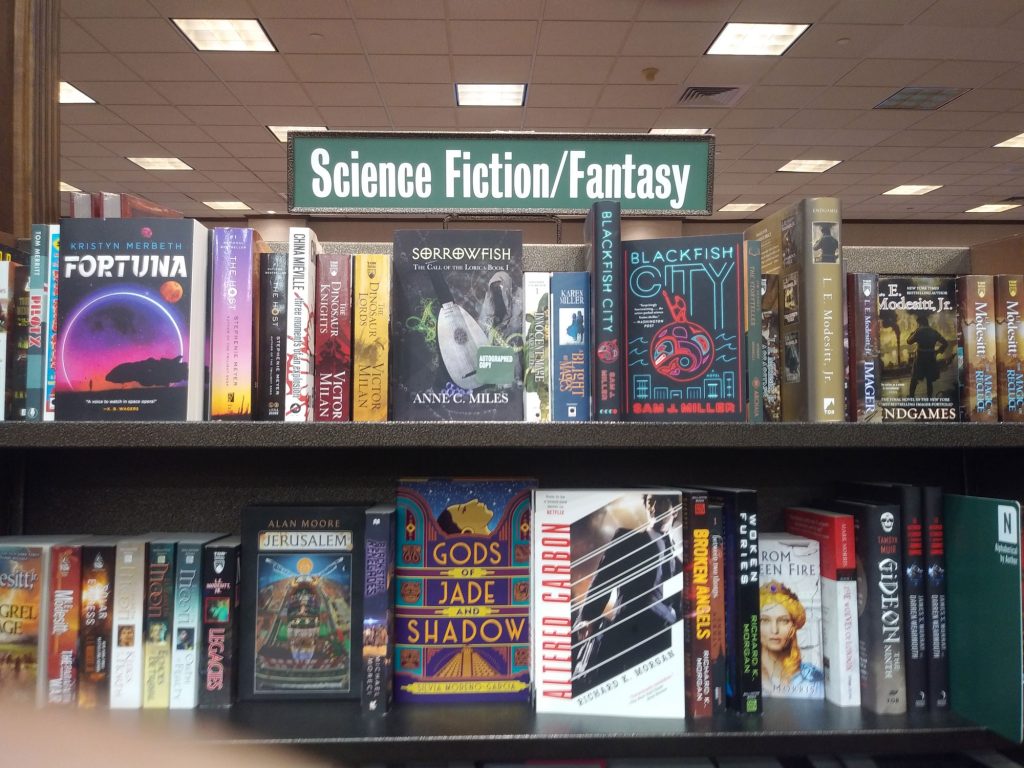 The bookstore manager was great, invited me back for my next book. I spoke with several budding authors about my self-publishing journey. Bookstore employees bought my book. All in all, a fantastic day.
We celebrated with fondue. Yes. That is my husband. Yes he is wearing a Sorrowfish tee shirt. I would have been wearing one but the tee shirt company screwed up my order and sent me a beaver tee shirt. Sigh.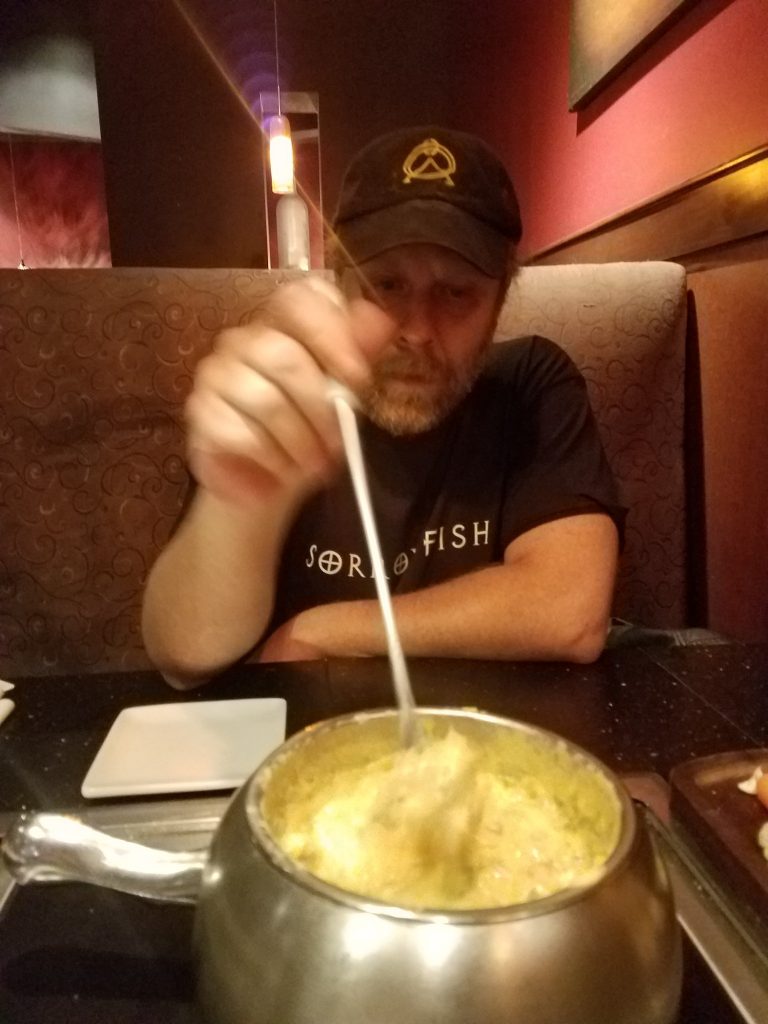 The beaver tee shirt.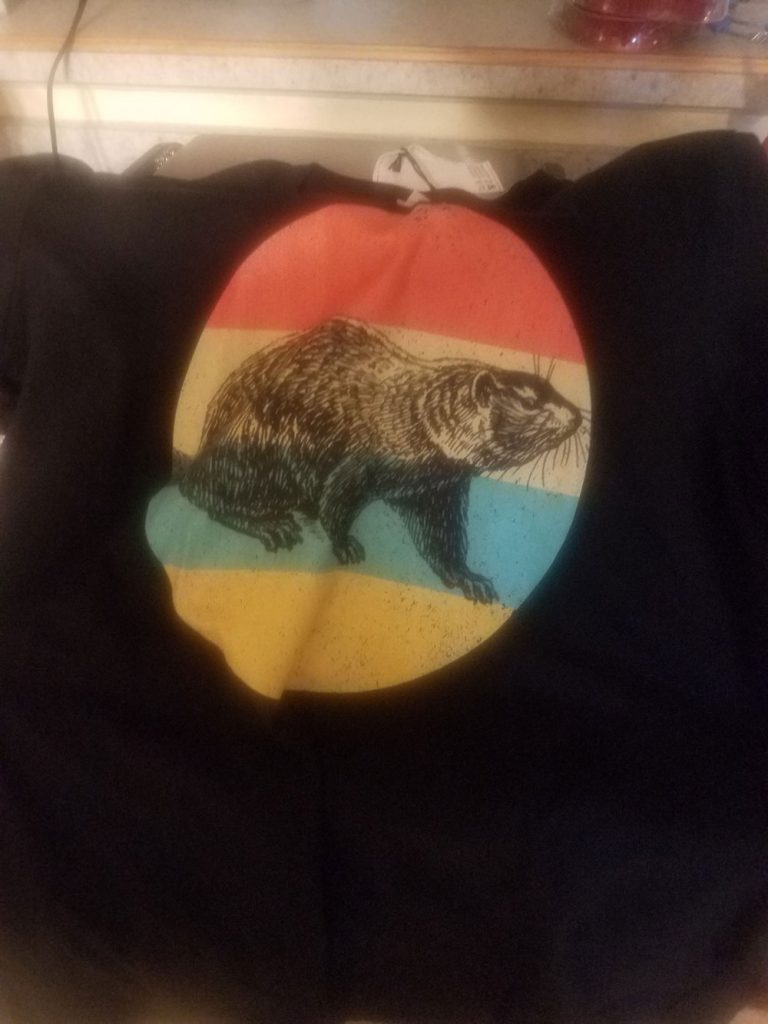 So there you go. I had a big weekend!
I am entered in several other awards. You may be certain I will lose it if I win any of them. But now it doesn't matter as much. I won one, and that's enough.