So yesterday was a down day for me on writing. I spent a long time discussing plot with Rod and decided my pacing was off and I needed a break. Took it but read some helpful things.
So the first resource I found was from reading Alec Hutson's thread on Wattpad. If you're self-publishing, it's very informative. I met Alec on Wattpad and got to know him a bit. He's very talented and a really nice person with a good heart. If you like fantasy, his book is The Crimson Queen and it's well done, well worth a read. He's self-published and done pretty well for himself and he's shared the details of his journey for the rest of us mere mortals.
The Donald Maas Literary Agency had contacted him and I was interested in that since they replied after he'd already pulled the trigger with Kindle Unlimited. Anyhow,  I checked out the literary agency. I like them. They represent Jim Butcher, who I love. He likes Robert McCammon (represents him? idk) and Boy's Life, which if you haven't read it is one of the best books ever written. (Read it, now.) And so I ended up reading The Emotional Craft of Fiction. It has a lot of useful exercises in it that I'm going to work with when I finish and start editing and revising.
I also found this blog, Writer Unboxed, which is really helpful, because of Donald Maas.  It led me to an article that I now can't find about marketing and creating a buzz before your book was launched that I thought was genius. (I'm going to follow this blog religiously because if he is reading it then I should.)  So then to combat my hatred of my first draft I decided to pick things I love from each chapter and do little social media images of them daily. It will encourage me while I edit and heck, people might even get interested in it. This is what I ended up doing instead of writing and it did help a bit with my draft-hatred. Seriously.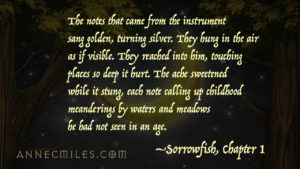 Also, this happened.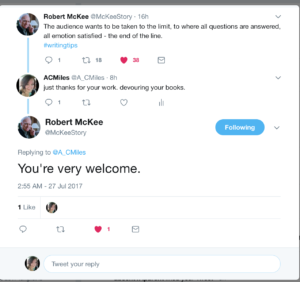 That's a little bit like being tweeted at by Tolkien for me, so  I totally fan-girled. I admit it. Also, Mark Lawrence followed me on Facebook. Same reaction.
But what drew my attention was what McKee was tweeting yesterday, or recently. He was talking about multiple plotlines with an ensemble cast. The Breakfast Club is an example. I'm doing this too and it isn't easy. I don't think it's wrong, but I worry about holding reader's interest and overwhelming them. This is what I get for being a Robert Jordan fan. Sigh. But I really don't know another way to tell this story.
I could break it up into different sections or different books, I suppose. But to me it wouldn't be as interesting, and alchemically-speaking I want my trio of main characters. I finished reading Granger's book on literary alchemy and have invested in some resources to help me with my own alchemical structure, but feel pretty shaky about it. I don't think I'm doing it well. I'll be actively working with it though in my revisions.
The other thing that I found this morning was this very good article on self-editing. I loved the quote by Louis Borges. "Art is fire plus algebra." I've read Borges in Spanish and can tell you his tales were complex so I appreciate what he was saying.
No word yet on the Thorn Guy contest, Battle of the Bards. I'm anxious about it because I really liked my story (entry 93) and think it might make the short list, which would be a big deal for me. I don't really care if I win. I learned a lot just from writing it. But just the idea that Mark Lawrence read something I wrote is delicious. If  Mark Lawrence, John Gwynne, Sebastien de Castell, Josiah Bancroft, Miles Cameron, Nicholas Eames or of course Agnes (Mitriel Faywood, she's permalinked in my sidebar)  likes what I've written and gives me feedback I'll likely be ecstatic and walk on air for a good long while.
All right, thats all that is happening. I miss my Wattpad friends but did get to spend the day with the lovely and talented @SapphireAlena last week. We went to see Dunkirk and I took her on a tour of all the places in my book. Then I took her to eat Mexican food (comida autentica) which she pronounced acceptable. And she's from out West, where they are experts on such. We had a great time and it was a real treat.
I hope you all are having a good week and love to get news from you so do reach out.