I'm going to St Louis this week, to Realm Makers. It's a Christian sci-fi/fantasy writer's conference. I'm stoked! Brent Weeks and Terry Brooks are both going to be there. Very exciting. I have no idea what to wear as a costume. They dress up for the awards banquet, apparently.
Probably River Song, it's what I have.
So I made a one sheet for Sorrowfish and shall give it away to anyone who looks at me. It looks like this.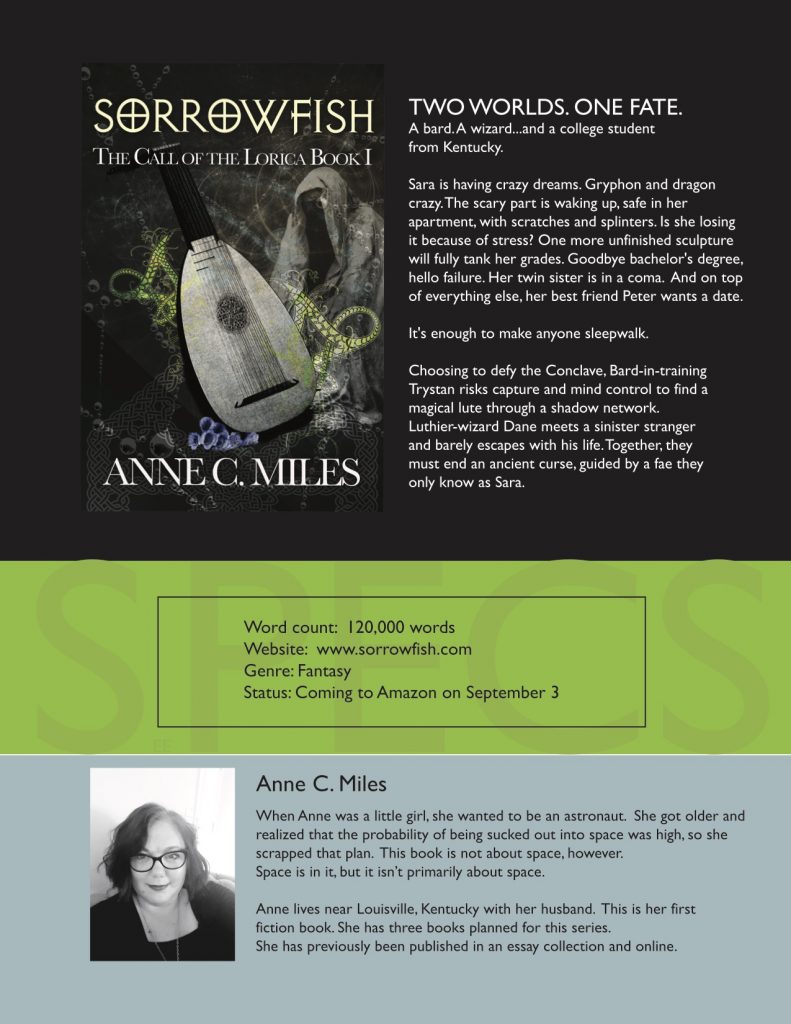 Except that I didn't have time to print in color so it will be the black and white version of that. Which is ok.
The classes I'm taking are all about marketing and then how not to be "preachy" as a Christian author. I don't really think I am but LSE® disagrees. lol. So I'm taking the class.
Anyhow, I'll report back in when I return!
UPDATE: It's been about a month since I went to Realm Makers. I enjoyed going and really enjoyed the class I took for Indie Authors, taught by Julie Hall. You guys should check her out. I came home and read her series. But she and her husband, who taught the class with her, basically confirmed that I'm on the right track. So I didn't learn much. But I got validated. That's ok.

I also took a book launch class that was pretty good. The "how not to preach" class was ok. I enjoyed hearing Brent Weeks and Terry Brooks. Good food. I met a few people who friended me on Facebook so that's nice.

Would I do it again?
Um. I don't know. I spent around $1200 to do it and likely would put that in ads and skip it if I had it to do over. It was a good thing to do once. I'm glad I did it. Does it outdo a week at the beach? No. No earth shattering revelations or anything, which disappointed me in a weird way. But … I'm glad Realm Makers exists and there are other people out there doing what I'm doing. That was my chief takeaway. It was fun. I enjoyed it.