SPFBO author Justin Lee Anderson wrote Carpet Diem and The Lost War. The Lost War is his entry into SPFBO 6. I read The Lost War and really enjoyed it! The Lost War is more of a classic fantasy with solid RPG roots. The story follows Aranok, a draoidh (wizard), as he leads a group across the country of Eidyn to restore an exiled foreign queen to her throne. The characters are all very well developed and the story will have you scratching your head at first and then coming to a very satisfying end.
The twist makes the story!

Justin very graciously gave me a few minutes of his time for an interview. Read it below.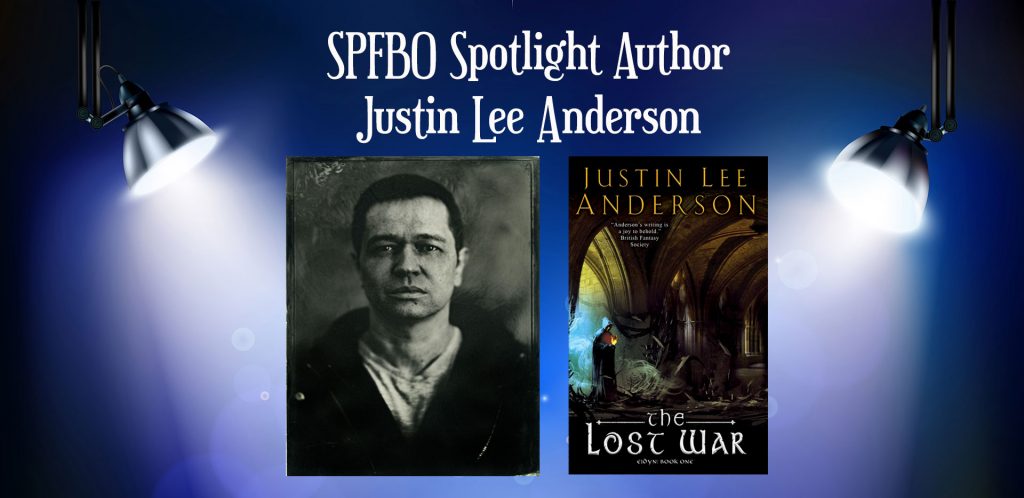 Justin was a professional writer and editor for 15 years before his debut novel, comedy fantasy Carpet Diem, was published in 2015. It went on to become a bestseller and won a 2018 Audie award.
His second book, epic fantasy The Lost War, was shortlisted in the 2019 Booknest awards.
Born in Edinburgh, he grew up in the US before moving back to Scotland in his teens. He now lives just outside his hometown with his wife Juliet, who he met through a BBC scriptwriting competition, and their Brady Bunch family.

Welcome to my lair, Justin. Tell me about a great book you've read recently!
I recently finished Empire of Sand by Tasha Suri and really enjoyed it. It's essentially a story about love, family, prejudice and oppression wrapped in some beautiful dance-based magic, with old gods, and based on medieval Indian culture. I tore through it, I think, because the MC was immediately relatable, and Tasha's prose is so easy flowing. It's one of those books I find myself randomly thinking about now and again weeks after I finished it.
What's your favorite song?
I don't know that I can pick one favourite, but a song that always makes me happy when it comes on is 'Ho Hey' by the Lumineers. I love music that makes me feel something.
Okay, time to escalate things: you get to travel to any book's setting and world but you have to choose only one. Where do you go?
Hmm. Honestly, despite the controversy around the author, probably Hogwarts. Who doesn't want to be a teenage wizard? I think the appeal of those books across generations is that people of all ages wish they could live in that world. As far as YA goes, I actually much preferred The Hunger Games books, but who wants to live there?
How do you like to work? (In silence, with music? Do you prefer to type or to hand-write? Are you an architect or a gardener? A plotter or a pantser? D'you write in your underwear, or underwater in scuba gear?)
Tell me about your writing method!
I consider myself a wayposter. I know the overall plot, the end and numerous wayposts I want to hit along the way. Then I write between them. I try to let the characters dictate how we get from one to another and see what develops between them as we go. If I ever get stuck, I sit down with a notepad, write out all the characters and list where they are, what's going on in their heads and what they are motivated to do next. That's always gotten me out of a hole.
For sound, I tend to use ambient-mixer.com to create a background atmosphere for whatever scene I'm writing. I find it helps get me in the headspace. I can't listen to any music with lyrics, because I find it distracting. Sometimes classical music or other stuff without lyrics works, but most often it's ambient sounds.
I'm writing my current book in Scrivener for the first time. I think I like it so far. I've always just used Word before, but I quite like how easy Scrivener makes it to navigate your work.
What/Who are your most significant fantasy influences?
Lots, depending on the genre, since I write both epic and comedy. The main ones are Neil Gaiman, Joe Abercrombie, Patrick Rothfuss, Tom Holt and Jasper Fforde, I think. I suppose Piers Anthony has to be in there too, since he was about all I read in my teens to 20s. But there are also loads of more recent authors whose work has definitely influenced me, like Anna Stephens, Ed McDonald and RJ Barker. I suppose ultimately I'm influenced by all the good work I read.
What's the most (and/or least) helpful piece of writing advice you've ever received?
Most helpful? The first draft is you telling yourself the story. Completely changed my mindset for getting a first draft down and helped me stop self-editing all the way through it.
Least helpful? Don't read in the same genre you're writing in. Presumably this is meant to avoid unconscious plagiarism, but I've found I absolutely have to read in the genre I'm writing in order to have my subconscious working away in the background. Even down to reading either comedy or straight fantasy depending on which I'm writing.
Can you tell me a little something about your current work(s) in progress?
I'm about 90k words through the second book in the Eidyn trilogy, The Insurgent King. On the basis anything I tell you about the plot will be a spoiler for the end of The Lost War, I can't say much more than that! Let's say everyone is dealing with the fallout from The Lost War…
How do you motivate yourself on days when you don't want to write?
It's tricky. I am an advocate of walking away if you are just stuck staring at a screen. I write a lot in my head, and so when I sit down I usually know what's going to come out. On the days when I'm not feeling it and maybe struggling to do anything, walking away often means I can come back the next day with fresh ideas and new energy. My biggest issue is usually health-related when I'm struggling to write. I have chronic headaches, which also come with a lot of fatigue, so if I'm just too tired and sore to write, walking away is sometimes the only option.
Who are your favourite characters in literature or pop culture? And do you have a favourite type of character you enjoy writing?
I grew up on comics, so the first three that came to mind when I read this were Batman, Morpheus and John Constantine. It's my dream to write Batman one day, and I think I might well end up writing an urban fantasy with a character at least a little bit like Constantine. I really like the trend for taking a genre and doing much darker things with it, like The Boys or Umbrella Academy. That's not to say Sandman and Hellblazer weren't dark of course. Or Batman! In fact, there we are, look at that – it looks like I like dark takes on genre themes. I have a notion to write a sci-fi superhero thing in future, at least a little inspired by Keith Giffen's too-short run on Legion of Superheroes, which was cancelled for being too dark. I adored it.
Tell me about a book that's excellent, but underappreciated or obscure.
Can I stick to comics? Paul Levitz's Great Darkness Saga storyline in Legion of Superheroes is wonderful. To my mind, it's a better story than the Infinity War arc the MCU have just done. I would love to adapt that for TV/film. Also in comics, Kingdom Come – amazing. Would also make great TV/film. You listening DC/WB? ☺
Finally, would you be so kind as to dazzle me with an elevator pitch? Why should readers check out your work?
It's different. I love stories where I can't see the end coming and don't know what's going to happen next, so that's what I try to write. Surprise and delight is what I aim for, and I like to subvert expectations. I've read a number of reviews where readers have said just that kind of thing, and it makes me very happy.
Thanks Justin!!!